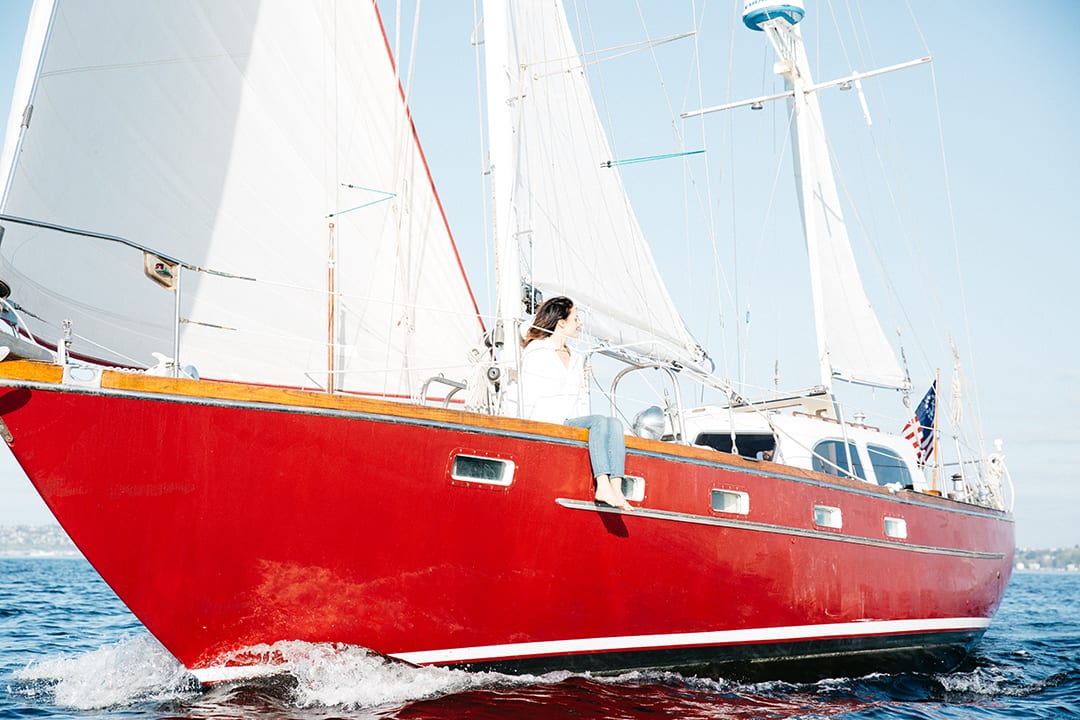 Our AdventureSail Getaway packages are perfect for couples or small families looking for a way to truly unplug and spend a day or two at a more relaxed pace. With two days on the water, and an overnight aboard, you'll find plenty of time for hands-on sailing experience as well as pure relaxation. You won't have any trouble settling into life on the Salish Sea.
With the choice of staying in a marina, for easy come-and-go shore access, or at anchor, with the peace and quiet in natures version of high-definition, you'll have the options to build your perfect getaway.
Our destinations offer a variety of excursions ashore – exploring the town, delightful dining options, hiking, beach combing – your imagination and sense of adventure are the limit!
Port Townsend
Out of Eagle Harbor we'll turn north along the eastern shoreline of Bainbridge Island, past Port Madison, Indianola, Kingston, Foulweather Bluff, and up the eastern shoreline of Marrowstone Island before catching sight of the town – a view perhaps not all that altered over the last 100 years or so.

Arriving in Port Townsend by sailing vessel is to be transported in to a time long ago. This vibrant Victorian town is home to some of the nations finest traditional shipwrights and sail makers. And the tradition carries on! If you're into boat-gazing on the docks, this is your town!

The historic architecture, delicious food and festive atmosphere make this the perfect getaway! Upon arrival we'll tie up at either Point Hudson Marina or Boat Haven, depending on availability. The town is small and walk-able from either marina.
Port Gamble
This sail also takes us north, heading towards Port Townsend, turning west around Foulweather Bluff and heading back south into the Hood Canal; landing in the quiet and protected bay of Port Gamble.  Port Gamble is an historically preserved logging village with charm to spare!  Grab a drink or a meal at the old General Store, visit the logging museum and stroll the old one-street of this town that is still owned by the old logging company.
Quartermaster Harbor
Heading south, we'll meander along the eastern shoreline of Bainbridge Island, past Blakely Harbor, Restoration Point, beyond Blake Island and down into Colvos Passage, down the western shoreline of Vashon Island and up into the long entrance to Quartermaster Harbor.  Vashon Island, an idyllic island inhabited by farmers and artists, hosts a lovely village with lovey local shops and dining options.
Gig Harbor
This sail incorporates most of the Quartermaster Harbor sail, down the western shoreline of Vashon Island, then turning west, landing in the lovely protected bay that is Gig Harbor. This is a delightful village with plenty to offer in the way of sights, strolling the streets and places to eat. The narrow entrance of this snug bay gives a secluded and tucked away feel, like you've discovered the place, and it remains the long-time home port of good-sized and successful fishing fleets of purse-seiners and geoduckers.
Additional days and destinations can be worked into the sail plan as desired.
Up to 4 guests